4.H Maintenance
Here you will find answers to the following questions:
What does maintenance have to do with GMP?
Can preventative maintenance improve the product quality and be cost-effective at the same time?
How can maintenance be optimised?
The EU GMP Guideline gives fairly unspecific requirements on the subject of maintenance or servicing.The following passages are found in chapter 3:
3.34 Manufacturing equipment should be designed, located and maintained to suit its intended purpose.
3.35 Repair and maintenance operations should not present any hazard to the quality of the products.
The FDA, on the other hand, makes very specific requirements which are certainly not to be disregarded in the course of globalisation and mutual recognition of inspections. Thus, the 21st Code of Federal Regulations Part 211, Subpart D, § 211.67 states
a) Equipment and utensils shall be cleaned, maintained, and sanitized at appropriate intervals to prevent malfunctions or contamination that would alter the safety, identity, strength, quality, or purity of the drug product beyond the official or other established requirements.
(b) Written procedures shall be established and followed for cleaning and maintenance of equipment, including utensils, used in the manufacture, processing, packing, or holding of a drug product.
The complaints frequently listed in the FDA's inspection records (FDA-483) regarding "non-existent or only averagely executed maintenance" are evidence that, at least for the FDA, maintenance is not of secondary importance.
4.H.1 Types of maintenance
The terms servicing and maintenance are often used as synonyms in practice, but are differentiated in literature.
In accordance with DIN 31051, maintenance is the entirety of all measures carried out to preserve and restore the required status and to ascertain and assess the actual status of a system's technical means. Maintenance includes measures such as inspection, repair and servicing. Servicing (care) is used to preserve the required status. Inspection is used to ascertain and assess the current status of a component. Repair eliminates a fault and thus restores the required status. A distinction is also made between preventative and fault-based repair (see figure 4.H-1).
Figure 4.H-1 Definition of maintenance in accordance with DIN 31051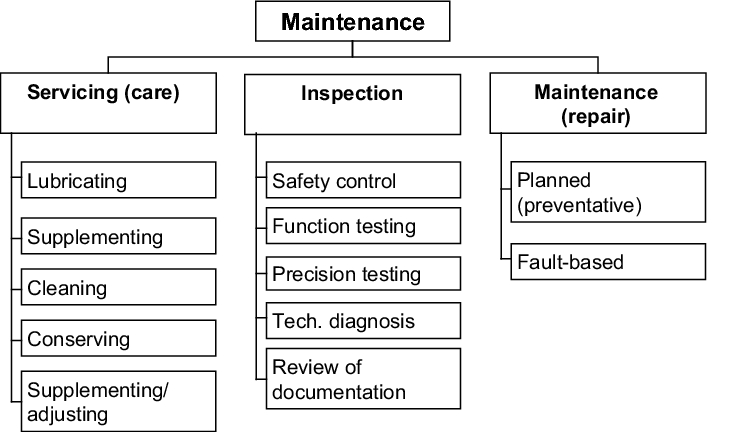 4.H.2 GMP-conform maintenance
"The aim of GMP-conform maintenance is to minimise the number of malfunctions that occur and to stabilise the sequences of the production and packaging processes so that a consistently high product quality is guaranteed." (Boehringer Ingelheim Pharma KG, SOP servicing and maintenance, 1995) To guarantee operation of the process equipment with few malfunctions, preventative maintenance in particular is required. Maintenance is preventative when the inspection and servicing of a facility is systematically carried out in an established scope and time interval, i.e. it is planned. (Lang, 1996) Maintenance measures are carried out without prior inspection and without a malfunction having occurred. Preventative maintenance can be limited to qualified equipment, or equipment that requires qualification, but can also be used for all other facilities.
Initially, maintenance without a malfunction having stopped the production process appears to be in competition with valuable production times. When facilities are faced with particularly high production loads in particular, it is often tempting to give in to the pressure of production and postpone or cancel servicing and inspection. Here, it is forgotten that gradual wear and tear can negatively influence the product quality just as much as a malfunction. However, investigations have shown that in many cases preventative maintenance can be carried out more cost-effectively than fault-based maintenance, due to the prevention of damage and the associated more economic personnel planning. The enormous costs for defective batches are not taken into account in these investigations.
4.H.3 Systems for maintenance
A preventative maintenance system should be described in an SOP. For the above-mentioned reasons, it should be scheduled on a machine with the same high priority as a production batch. The synchronisation of servicing deadlines with calibration deadlines should not be forgotten, to avoid unnecessary downtimes of the facilities. Even if this is usually carried out via data processing systems, it is recommended that the implementation of preventative maintenance be started with "manual" procedures, due to the high level of complexity. The following procedure can be used to automate execution of preventative maintenance:
1. Compilation of an (adaptive) paper-based system for preventative maintenance (Excel, etc.)
2. "Manual" coordination and test runs of the maintenance
3. "Manual" scheduling of maintenance in the production planning
4. Transfer of paper systems to database systems (Access, Oracle, etc.)
5. Linking of database systems with the production planning system.
When introducing a "paper system" for preventative servicing and maintenance, proceed as described in figure 4.H-2.
Figure 4.H-2 Procedure for preventative maintenance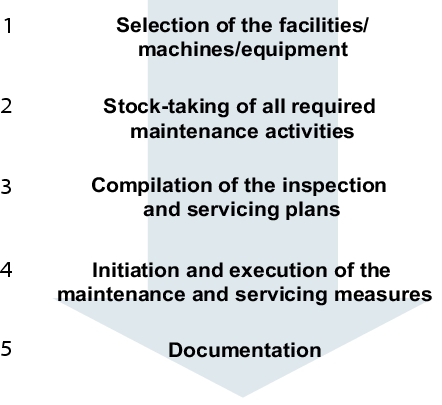 Selection of the facilities and equipment in question
Stocktaking of all required activities: Collection of all required activities that are required to maintain operation of the facility. The manufacturer's documentation is assessed by means of a risk analysis and supplemented with own historical operating data. Here, it is helpful to structure the facility into individual facility components using the technical documentation (chapter 4.F Technical documentation).
Figure 4.H-3 Maintenance instruction
Compilation of maintenance instructions: For each individual piece of equipment or for entire facilities, a form is compiled with the inspection and servicing activities in question (see figure 4.H-3).
Initiating and carrying out maintenance: All maintenance measures to be carried out regularly are to be entered in a maintenance calendar. Maintenance must be commissioned and its execution controlled.
Documentation: The maintenance measures that have been carried out must be documented. In the above-mentioned example, this can be carried out directly in the form. The form can also be supplemented with the additionally required measures and thus be continuously improved, i.e. "learn".
The developed paper system forms the basis for implementation in the automatic maintenance systems. A possible configuration is shown in figure 4.H-4.
Figure 4.H-4 Automatic maintenance system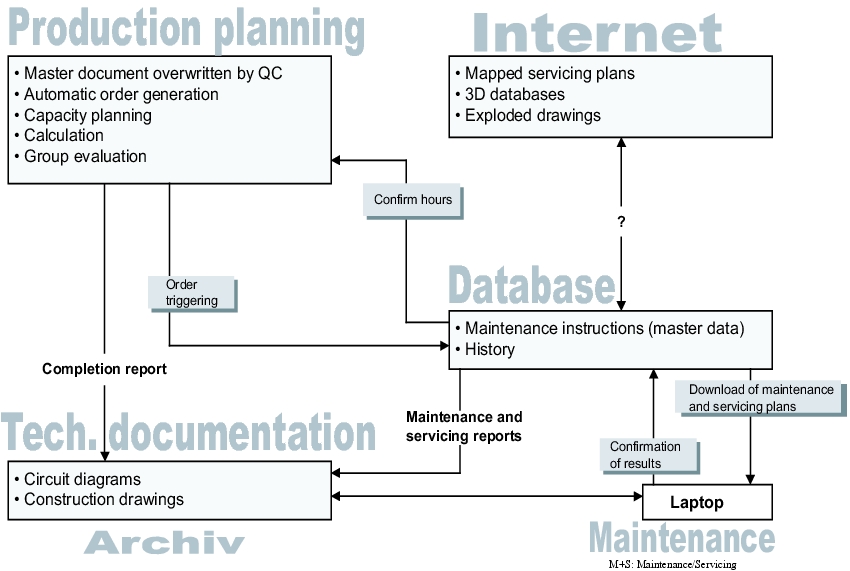 The order request for a maintenance measure is made from the production planning system (PPS). The maintenance instructions, possibly with current information from the Internet, are loaded onto laptops from the database. These laptops are used to document the maintenance measures on-site. Additional technical information from the archives can be called up on-site via interfaces. Confirmation of the maintenance results is incorporated into the maintenance forms and in the production planning. There, the maintenance request is cleared and stored in the archive.
With automatic systems, it is worth considering that uniform procedures and the higher updating level of electronic systems must be set against the costs of procurement and maintenance and the costs of validation. It must also not be forgotten that data often cannot be read after the software version is changed.
Summary
Maintenance includes measures such as inspection, repair and servicing.
"The aim of GMP-conform maintenance is to minimise the number of malfunctions that occur and to stabilise the sequences of the production and packaging processes so that a consistently high product quality is guaranteed."
Preventative maintenance is profitable, not only from a GMP perspective.
The possibilities of "online maintenance" via the Internet and other electronic systems must be pursued taking the costs/benefits relationship into account.