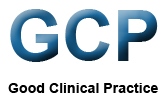 GCP
Good Clinical Practice

The GCP standard ("Good Clinical Practice", Good Clinical Practice) is an international standard of ethical standards and quality of scientific research that describes the rules for the development, conduct, documentation and reporting of studies that imply the participation of a person as a test subject (clinical studies). The compliance of the research with this standard indicates public observance of the rights of research participants, the rules to ensure their safety, the desire to not cause harm, as well as the requirements for the reliability of research. These rules were initiated in the Helsinki Declaration of the International Conference on Harmonization (ICH).
In conjunction with the standards of GMP (Good Manufacturing Practice) and GLP (Good Laboratory Practice), it is called upon to standardize some aspects of the quality of medical care for the population.