3.F Building services
Here you will find answers to the following questions:
What fundamental points must be observed when installing building services in rooms?
How is it possible to achieve the "easy to clean" requirement?
The term building services encompasses ventilation technology (see chapter 3.H Heating Ventilation Air Conditioning (HVAC)), heating, plumbing, utilities (gases, purified water, solvents etc.), electrical engineering, data processing, and the necessary measuring and control technology which supply and remove materials from rooms and processes. In this chapter, only some of or the most critical points in relation to rooms are dealt with.
The following details must be observed for all building services:
The routing of pipes and cables should be such that points that are difficult to clean are avoided [EU GMP Guideline, Appendix 1.25]. This requirement should also be applied in non-sterile areas. This means in practice that pipe and cable runs must be located outside the rooms in services zones above or below them. Only short horizontal pipe lengths to the connection or fitting should be installed in rooms. If longer cable or pipe runs to consumers in the room are necessary, these must be installed vertically from above or below.
Pipe connections and supports should be easy to clean.
Stainless steel and plastics are piping materials that are suitable for use inside rooms.
It must be possible to completely empty, or, if required, sterilise fittings or fast-action couplings for product contact utilities (purified water, solvents).
The use of terminal or peripheral filters within the rooms is recommended where process gases (compressed air or nitrogen) are used.
Cables must be routed behind plaster or in suitable vertical cable ducts made of plastic or stainless steel. Transverse ducts must be avoided.
Cavity wall sockets for electrical and data cables in the sterile area must be sealed.
Heating system: radiators should not be installed in the production and packaging areas as the feeds and radiators themselves are difficult to clean and thermal currents throw up dust and particles. If it is absolutely necessary to install radiators, so-called hygiene or hospital versions must be used.
Sanitary system: waste water lines must not be directly connected to machines as pressure fluctuations in a waste water system or room may result in organisms being transferred from the waste water. Use of floor inlets must be avoided whenever possible; where such use is unavoidable, floor inlets must be installed with odour traps, and they must be easy to clean [also see EU GMP Guideline, Appendix 1.26].
Figure 3.F-1 Pipe bushings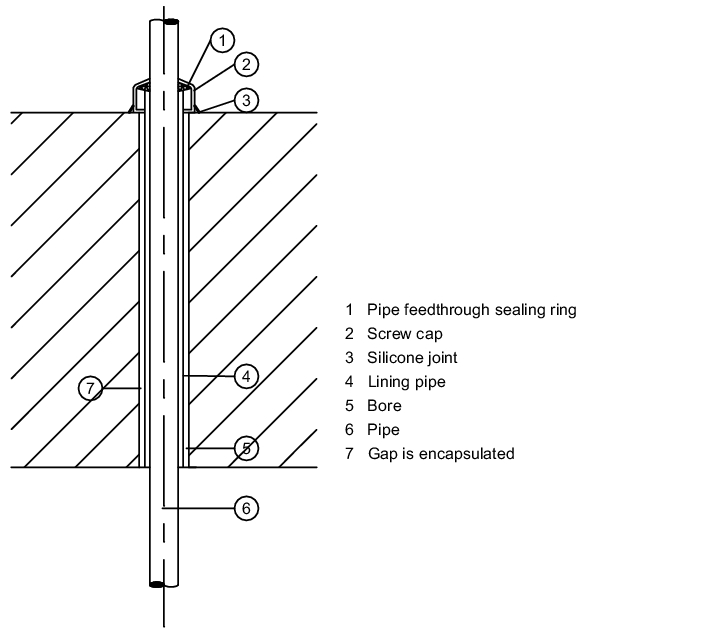 Sanitary and utilities equipment: Floor bushings must be installed in such a way that water cannot escape from the room and particle-containing air cannot penetrate the room. Areas that cannot be cleaned must also be avoided (see figure 3.F-1).
Electrical engineering equipment: the lighting design must be suitable for the task carried out in the room - this includes the level of illumination as well as the type of lighting. Glare effects in particular must be avoided for checking tasks or where computer workstations are used. Relevant information may be found in the guidelines for workplaces.
Whenever possible, switchgear cabinets for building services should not be installed in the production rooms as their ventilation systems throw up particles and dust. Additionally, for the purposes of maintenance and repair work, it is more practical to install switchgear cabinets in the services area; and for the same reasons it is often better to locate switchgear cabinets for production machines in the production rooms. In these cases, a suitable electrical protection class and material (stainless steel) for the switchgear cabinet must be specified.
Measuring and control (MSR) for the ventilation technology (see chapter 4.C Control): It is especially important in the case of this craft to establish a clear concept at a very early stage (see chapter 6.D Design qualification (DQ)) in order to be able to identify critical or quality-relevant measuring or control loops. The following questions should be clarified in the DQ phase:
What are the parameters that have to be monitored?
To which accuracy classes must the measuring instruments be assigned?
Are designs for duplicate measuring circuits required?
Should the data be documented?
Should alarms and exceeded limits in the room be displayed?

Summary

Building services installations must be outside the rooms whenever possible.

The routing in the rooms themselves must ideally be short, straight and in a vertical direction.

Critical areas are openings in floors, walls and ceilings.